what-we-do/our-work/signing-for-the-times-how-microsoft-championed-inclusivity-in-driving-innovation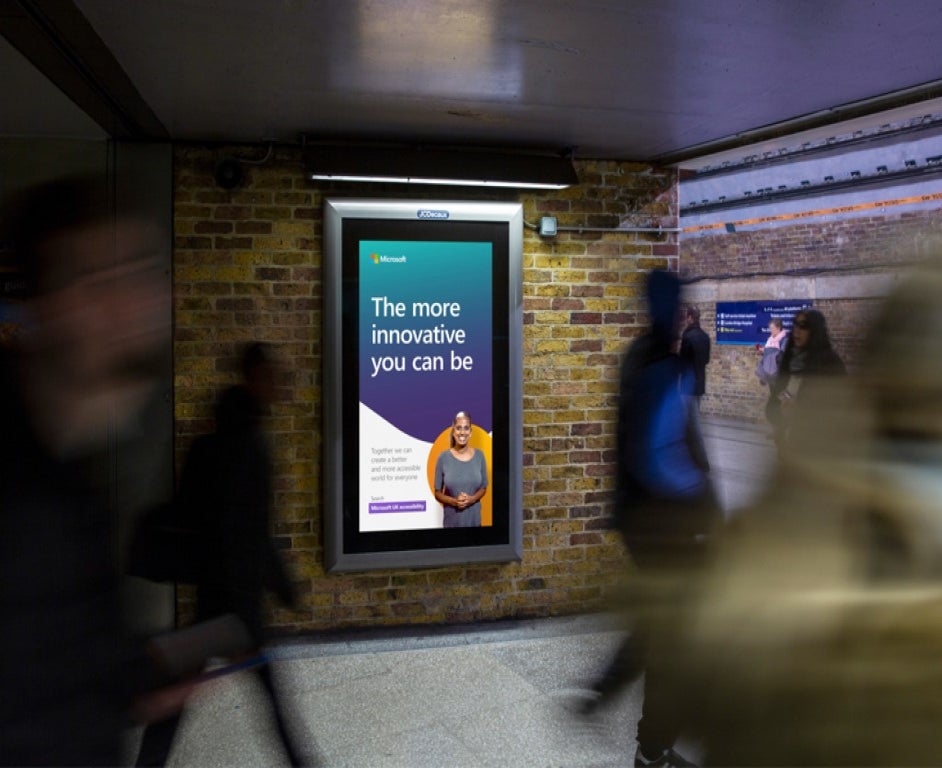 Signing for the times – How Microsoft championed inclusivity in driving innovation
British Sign Language (BSL) is the first language of 87,000 Deaf people in the UK. Formally recognised in 2003 it still does not have full legal status, meaning many Deaf people cannot access essential information and services.
As champions of 'Accessibility for All' Microsoft wanted to communicate the importance of accessibility in driving innovation. Last year Microsoft partnered with 'AI for Good' member Signly, whose tech translates websites into sign language and relaunched the Microsoft accessibility website to promote its work with UK government
DOOH was the perfect medium to champion accessibility and bring BSL to millions. We built a standout campaign that reached a high concentration of business decision-makers and showcased the role of technology in improving access to digital content.
In a media first, each DOOH screen showed 10-second films featuring a BSL interpreter signing the words next to them : "The more inclusive you are, the more innovative you can be. Together we can create a better and more accessible world for everyone."
Reaching an estimated 4.5m people in-situ across the rail environment, the story was highly shared on LinkedIn driving 115,000+ views and was shared widely across other social channels. It also attracted media recognition, appearing in UK and global advertising industry trade press.
As a result, Microsoft saw an increase in visits to their accessibly website and brand tracking established that the campaign positively shifted perception of, and positive response to Microsoft. It became the headline story in the iOS stock ticker for Microsoft globally.