what-we-think/ad-of-the-day-heinz-marks-shard-anniversary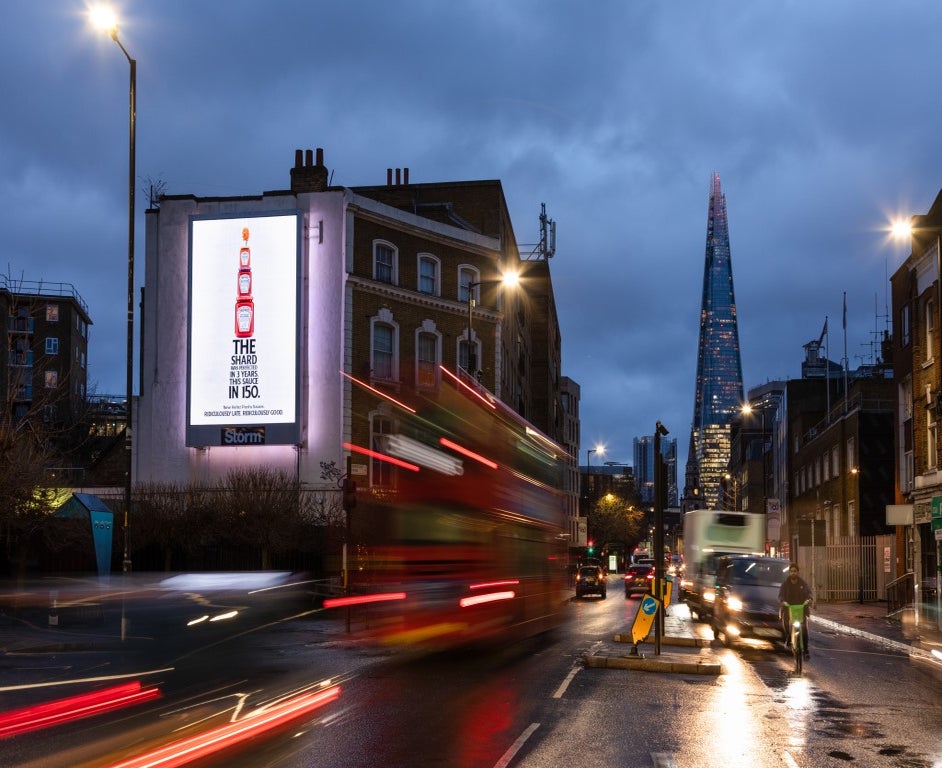 Ad of the day - Heinz Marks Shard Anniversary
Ad of the Day: Heinz marks Shard anniversary
Heinz, whose parent company Kraft Heinz occupies an office in London's iconic Shard building, has wished its landlord a happy birthday with a local, reactive out-of-home ad.
Showing a tower made from jars of its new pasta sauce, it continues its 'Ridiculously late, ridiculously good' campaign, laughing at itself for taking a century and a half to launch said sauce despite making the most famous tomato condiment in the world.
The ad reads: "The Shard was perfected in 3 years. This sauce in 150. New Heinz Pasta Sauce. Ridiculously Late. Ridiculously Good."
Katherine Scurr, client partner at Carat UK, told The Drum: "Cheekiness sits at the heart of the Heinz brand and when an opportunity is too good to miss, our reactive media process is deployed to get creative to market as quickly as possible.
"The 'Ridiculously Good, Ridiculously Late' campaign lives the brand's cheeky tone of voice, poking fun at itself for taking 150 years to create a pasta sauce given its category-leading tomato offering. We focused on driving fame and impact at launch and utilized a blend of large format OOH formats to help us achieve this, but took the strategy one step further with hyper-local, contextually relevant placement next to Heinz's home in The Shard."
She concluded: "It appeals to London's sense of humor with a self-deprecating headline and simple but effective product visual to build even more awareness of the product and love for the brand. Keep your eyes peeled for more activations like this in 2023 – we have inspiration by the jarful."
Credits
Creative agency: Wunderman Thompson
Carat UK
Account manager: Folajimi Akintola
Account executive: Thomas Wright
Account director: Abbie Clark
Posterscope
Account manager: April O'Driscoll
Account assistant: Evie Clilverd
Planning and buying executive: Lisa Bates
This article first appeared in The Drum - The Drum | Heinz Apologizes For Launching Pasta Sauces 150 Years Late