what-we-do/our-work/cadbury-s-secret-santa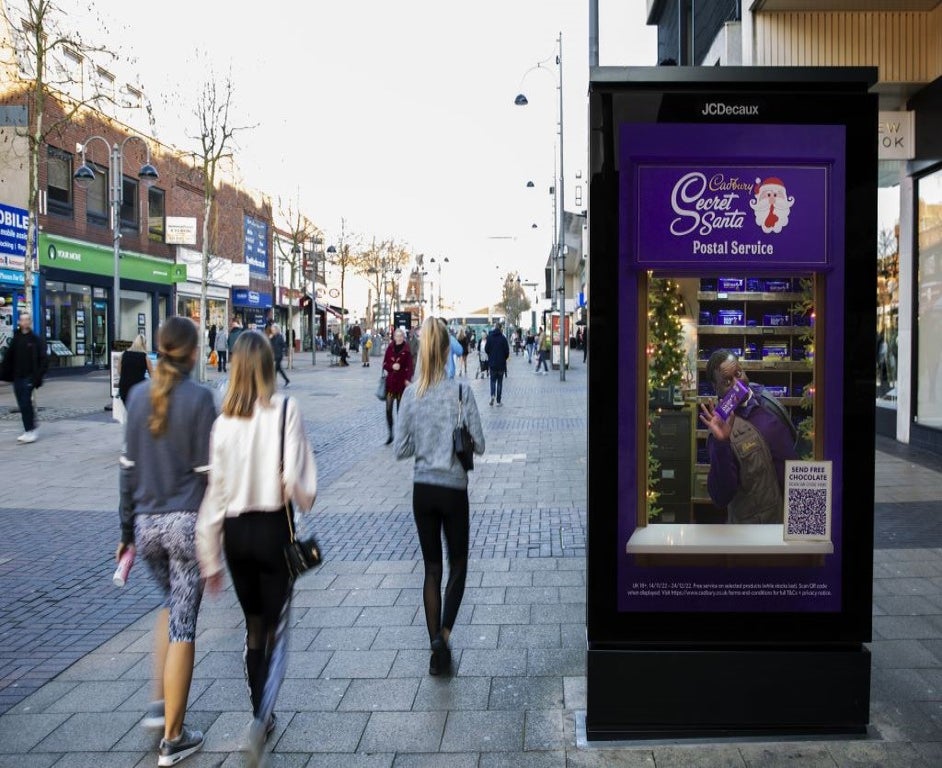 Secret Santa is Cadbury's core platform to drive brand engagement at Christmas but was limited in its scale and accessibility. This year was about taking that to the next level, bringing this to life on a mass scale and cutting through the advertising clutter at Christmas. With OOH as the lead media alongside TV and Radio we turned 10 physical Secret Santa postal locations into 280 + interactive screens that enabled consumers to send a bar of chocolate to a loved one.
Strategy
We needed to level-up and deliver increased scale to the Secret Santa proposition and make the ritual become part of the fabric of Christmas as well as cutting through the advertising clutter at this time of year. OOH was perfect as the lead medium to deliver this. The idea was that you could scan a QR code and gift a chocolate bar anonymously to someone to brighten their day. The QR codes were almost entirely in OOH and all other media referenced posters in rail, mall, and roadside locations and combined well to drive intrigue at Christmas.
Execution
120,000 people to send a bar of chocolate to someone special in secret, completely for free, we focused on spreading generosity and amplifying Cadbury's role in the fabric of the nation.
To engage with the campaign, people needed to spot a poster and scan the QR code to send a bar in secret to someone special. The digital posters were popping up at random across the UK and the bars were released slowly over the 6-week period to maximise engagement. This was supported by 6 weeks of 6 sheets generating mass coverage and making sure 80% of the population saw our OOH ad across Nov/Dec.
Results
This combination of OOH environments, mall, roadside, supermarkets, all complimented by other media made Cadbury's unavoidable. The results achieved across all areas were astounding and our objectives were not only met, but exceeded, beyond anything we could have hoped for. Consumers were truly moved by the campaign and Cadbury's generosity, which achieved a halo effect on total Cadbury Equity, not just Cadbury at Christmas.
The campaign was also named as Kantar's best ad at Christmas.