what-we-do/our-work/joined-up-ooh-drives-sales-and-market-share-for-strongbow-s-new-brand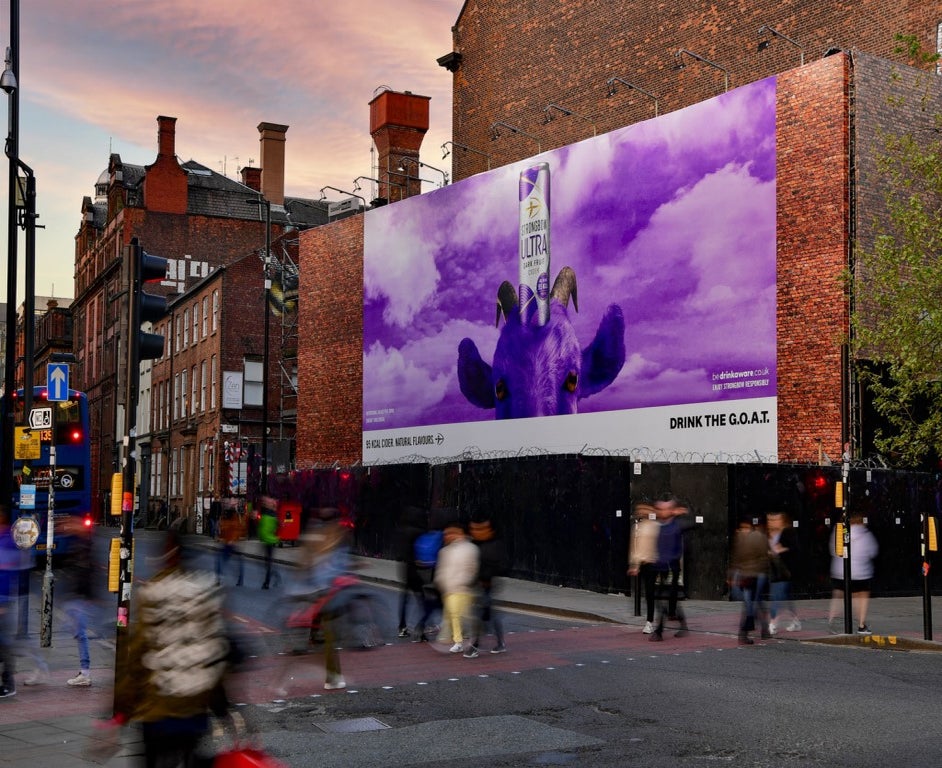 Joined up OOH drives sales and market share for Strongbow's new brand
As health and moderation becomes an increasing consumer concern many companies in the beer and cider sector are launching 'better for you' brands. Cider, particularly Mainstream Flavoured Cider, is losing relevance with younger consumers (18-34), who are increasingly opting for "better for you" and "cooler" drinks propositions such as pre-mixed spirits (e.g. G&T cans) or Hard Seltzer, so the launch of Strongbow Ultra Dark Fruit into the category needed to work hard.
A campaign named 'greatest of all time (G.O.A.T) used OOH to launch at scale. For want of a better expression 'to get the new brand into people's faces everywhere quickly'.
We used a mixture of traditional and disruptive formats such as Classic Billboards, Premium Building Wraps (Banners), Flyposters & Underground Cross-Tracks working alongside AV and Digital formats to drive awareness and consideration both nationally and in areas where younger trend setters would be present, whilst complementing this activity with Banners and D6's in close proximity to key off-trade outlets to drive sales.
As a result Strongbow Ultra Dark Fruit achieved high value sales in the Off-Trade, market share growth, and an increase in brand power, cementing its #1 status in the category.