what-we-think/ikea-s-dynamic-digital-ooh-campaign-creates-puns-with-products-for-summer-shoppers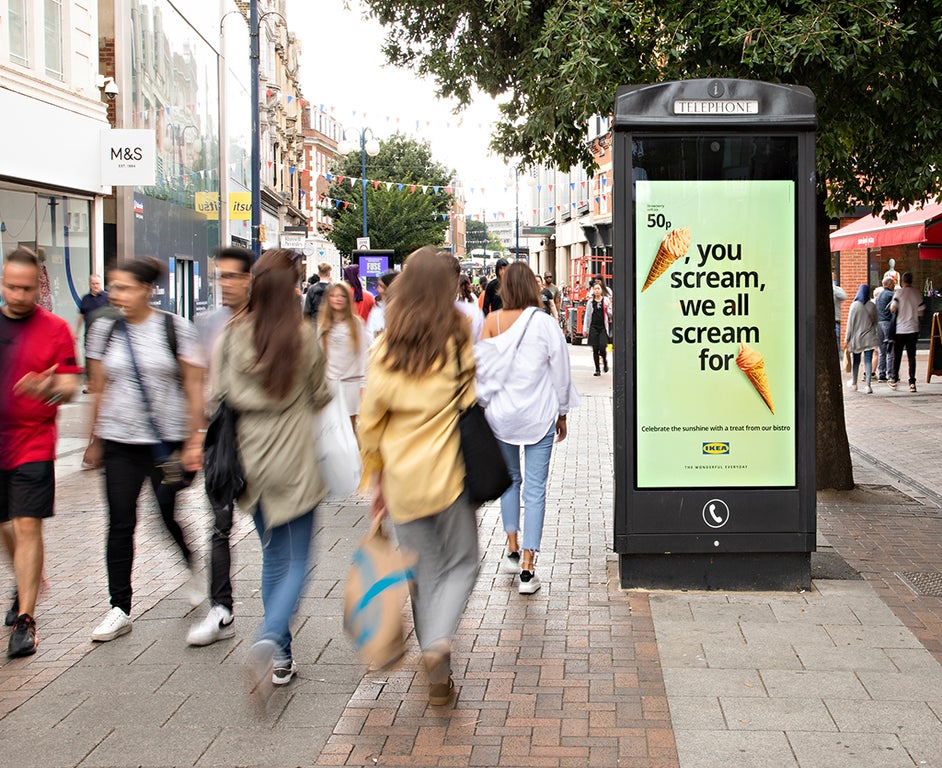 IKEA's Dynamic Digital OOH Campaign Creates Puns with Products for Summer Shoppers
IKEA rolled a nationwide digital, dynamic out of home campaign for the summer, using visual puns to showcase some its most popular summer products and encourage customers to visit local IKEA stores.
Planned and bought by iProspect and Posterscope, with creative by Mother, the campaign aimed to capture the attention of IKEA fans and home makers, with multiple creative executions that cleverly incorporate IKEA products into the poster copy in the style of a Rebus quiz. The creative also features directional messaging to nearby IKEA stores where products featured in the ad are available to buy, and is triggered to appear when certain weather conditions are met such as sunny, cloudy and rainy moments.
The campaign appeared across more than 750 digital sites on high streets across the country until 22nd August.
IKEA said: "This campaign continues our long standing tradition for creating eye-catching advertising campaigns that feature our products without overtly selling them. In this campaign we've tapped into the exceptional and most recognizable creative aspects of out of home, combining simple but stand out copy and imagery to draw the eye and attention of passing pedestrians, to ultimately direct them in-store."
Karen Walkinshaw at Posterscope added: "With its ability to serve specific messaging to the right people, at the right time and in the right location, out of home is the perfect medium for IKEA. The striking creative executions play beautifully to out of home's strengths, and combining both high impact brand-led messaging alongside directional messaging that drives footfall and ultimately sales."
This article first appeared in IKEA's Dynamic Digital OOH Campaign Creates Puns with Products for Summer Shoppers | LBBOnline