what-we-think/pandora-unveils-new-murals-for-keith-haring-collab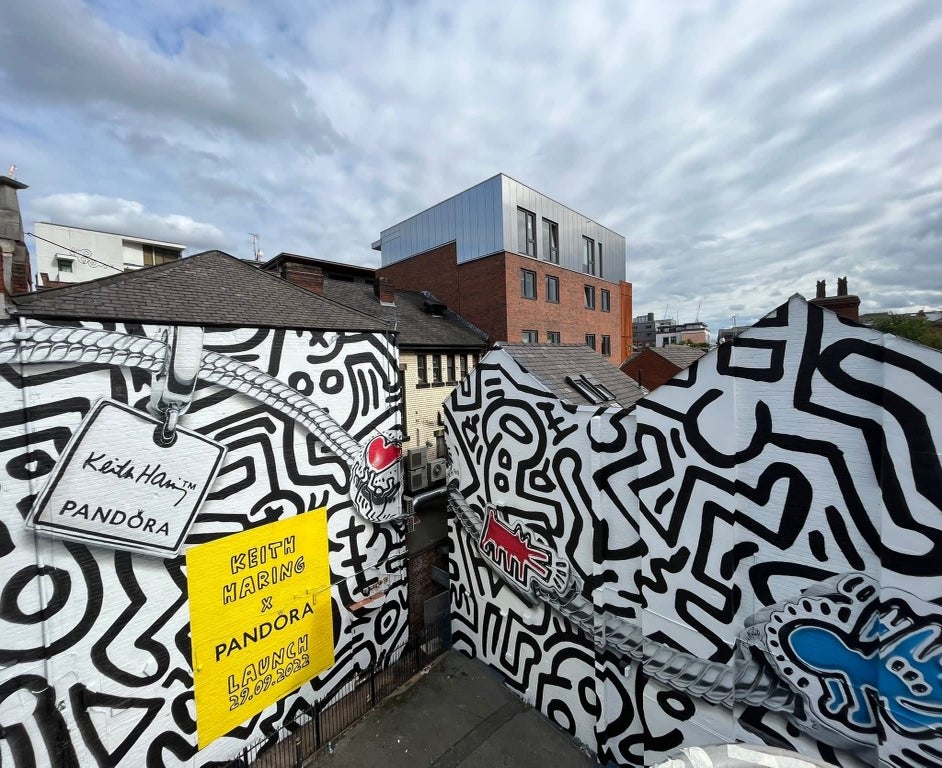 Pandora unveils new murals for Keith Haring collab
Pandora, the world's largest jewellery brand, has this week unveiled two striking murals in London and Manchester to celebrate the launch of its newest collection, its first art collaboration with renowned artist Keith Haring.
The Keith Haring x Pandora collection, which launched on 29th September, is adorned with flashes of bright tones and mixed metals and emulates the bold lines and colour which once emblazoned New York City streets and inspired the artist. The collection features 14 pieces all inspired by the visionary artist's symbolic works including the barking dog and angel baby, and his signature bold linear lines.
The murals, which can be seen at the iconic Redchurch Street site in London's Shoreditch and Manchester's NQTR Domination, reflect the graffiti and street art that inspired Haring's signature pop art style, and bring to life the buzz and bursts of creativity that permeated the 1980s downtown New York scene. Sitting centrally within the murals are key pieces from the collection; a charm bracelet featuring the barking dog and angel baby charms.
Devised by out of home and location marketing specialists Posterscope with Carat, the murals are the centre piece of Pandora's wider launch campaign, which included a star-studded launch party at Behind The Bike Shed in London, fly posters, social media and influencer marketing activity.
The murals were designed and painted by Mural Republic
This professional campaign titled 'Keith Haring x Pandora' was published in United Kingdom in October, 2022. It was created for the brand: Pandora, by ad agency: Posterscope
This article first appeared in Pandora: Keith Haring x Pandora • Ads of the World™ | Part of The Clio Network