what-we-think/there-s-an-easier-way-to-be-purposeful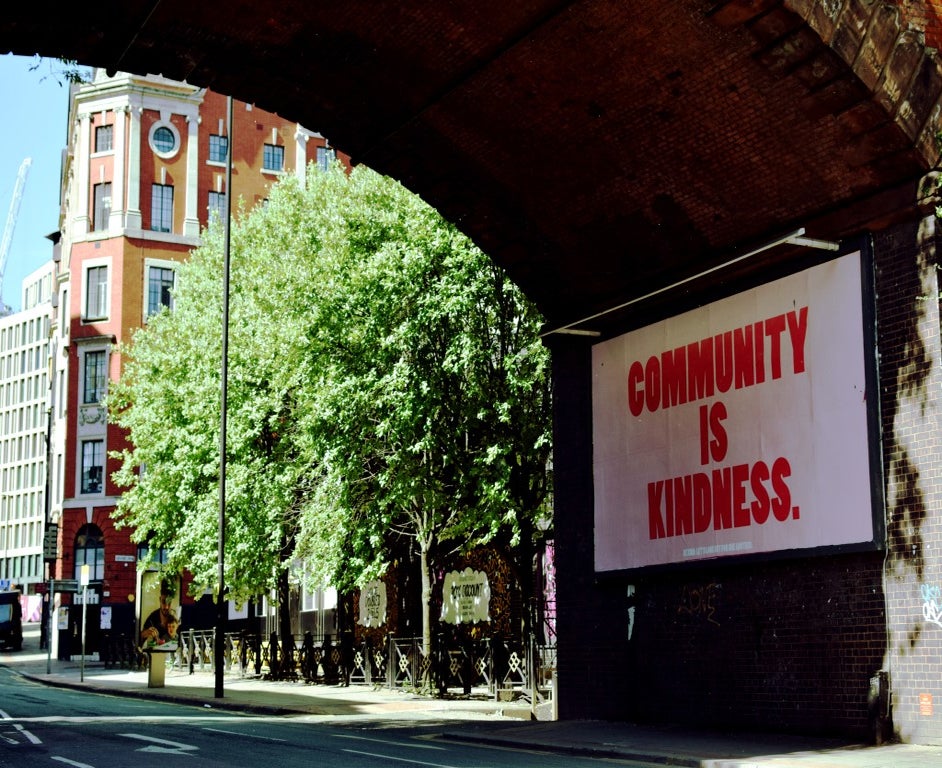 There's an easier way to be purposeful
Studies show that people with a sense of purpose in life are more likely to remain healthy as they grow old and find it easier to be inspired by the things they do.
As the saying goes, 'everyone needs a purpose in life'. But do brands?
PwC's recent report for Outsmart, OOH's marketing trade body revealed the significant financial contribution that the OOH sector contributes to the economy and local communities. Inspired by this, Posterscope MD Tim Sapsford, takes a look at whether putting purpose on the media plan allows advertisers to go beyond talking about being purposeful and responsible, and actually walk the walk as well…
The brand purpose debate has played out in various guises over the years. Some marketers, such as former Unilever CMO Keith Weed are true believers in marketing as a force for good, while others, such as marketing professor, Byron Sharp, believe that marketing's sole purpose is to sell things.
Personally, I subscribe to the view that marketing can be a force for good and have purpose – but that 'purpose' needs to be meaningful, action oriented, and relevant. I don't need a travel brand to 'connect me to opportunity', I just want my flight to be on time. And no, social justice cannot be served in a can of fizzy drink.
The research around the subject is equally conflicted. A global study carried out by Zeno Group in 2020 found that consumers were four times more likely to purchase from purpose-driven brands, while Peter Fields' research, presented last year, clearly demonstrated that the average purpose campaign was less likely to generate very strong, long-term business effects when compared with 'traditional' non-purpose campaigns. Go figure.
What's wrong with the brand purpose debate is that it tends to focus on the execution, the messaging. Being a purposeful brand is really to be a force for good.
Consumers want brands to do good. Our own consumer research indicates that 72% of consumers believe brands have a responsibility to lead the charge in promoting a more sustainable way of living, and 69% think brands should tell people what they are doing to meet their ESG promises.
Perhaps it is not just about what a brand says (message), but what it does (purpose) to address sustainability issues, to reduce social inequality, invest in the communities they serve, that will turn cynical consumers heads.
Brands still need to advertise, to speak to people and for that they need media. All responsible media owners are rightly investing to reduce their carbon footprint, some play their part in being catalysts for social change, and some will undoubtedly support local community initiatives.
But what if there was a medium where many of these opportunities were 'baked in' rather than being an addition to the core product?
OK, I'm biased, but there is, it's called Out of Home.
Like many media, OOH is on track to reach net zero emissions by 2030 and the major players are already using 100% renewable electricity. Solar-powered bus shelters, poster sites that feature filter pollution, living walls, and bee hotels are also other initiatives that benefit the environment as well as the communities they serve.
But it is perhaps in community where OOH's greatest strength as a 'purposeful' medium lies. A report published recently by PwC, commissioned by Outsmart, has found that the UK OOH sector contributed more than £400 million to support public services, infrastructure, communities and employees in 2021 – representing 46% of its advertising revenue.
By choosing Out of Home, brands and advertisers are not only choosing a responsible media channel, but also one that helps contribute to the public purse.
The report also revealed that over the last 14 years, OOH media owners have invested £1.1 billion into installing public infrastructure, such as bus shelters, free telecommunications services and even lifesaving defibrillator and community initiatives. For example, at Rosslyn Park rugby club a portion of the revenue generated by poster sites nearby goes directly back to the club to support grass root sports, including women's and youth teams.
Most of the 30,000 bus shelters that Clear Channel operate have been given free to the local authority and are maintained at no expense to the taxpayer. The living roofs installed on many shelters bring a bit of greenery back into urban areas and support native biodiversity.
A significant portion of inventory on street furniture is also given back over to local councils and charities to utilise for community messaging, and JC Decaux's digital phone kiosks not only provide free Wi-Fi, phone charging, and local telephone calls but also automated defibrillators. This is media that can literally save lives.
Trust in brands is falling, and despite the consumer concerns over sustainability, there is cynicism around brand purpose.
Trust is built on familiarity and cynicism overcome by demonstrating that you do as you say.
What better medium to use, then, than one that is not only located at the heart of communities, where consumers can see you every day, but also one that gives back to them also.
If brands really want to show their purpose, then using OOH and shouting about it would be a good way to start.
This article was published in Marketing Beat 3/10/23
Opinion: Why brands are putting purpose on the media plan (marketing-beat.co.uk)